Agricultural
Main Content
Agricultural Cannabis at SIU
The Cannabis Science Center at SIU Utilizes specializations in a variety of Agricultural Industries. 
Ever since the 2018 Farm Bill relaxed restrictions against hemp farming, research institutions like Southern Illinois University Carbondale have been able to work towards efforts like hemp for fiber, weed management, medicine, and much more. Hemp is an incredibly versatile and important crop in the state of Illinois and beyond.  
Article: Researchers sprout hemp plants, plan new class for cannabis science initiative. By Tim Crosby.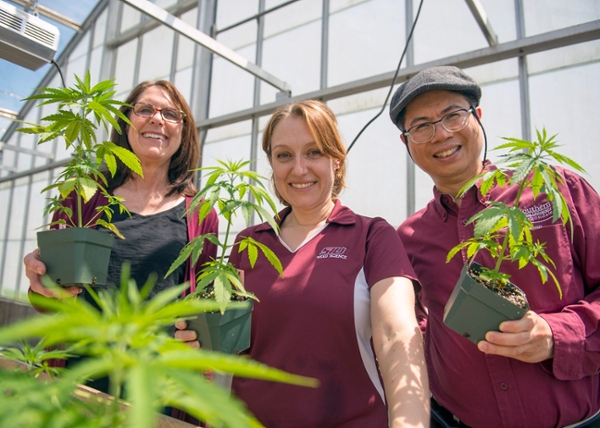 June 12, 2019. Karen Midden, interim dean of the College of Agricultural Sciences at SIU, along with Karla Gage, assistant professor of plant, soil and agricultural systems, and Aldwin Anterola, associate professor of plant biology, show some of the hemp plants grown in a university greenhouse. The more than 500 industrial hemp plants are aimed at producing CBD oil and are destined for the fields of a local start-up company. The plants are part of SIU's cannabis science initiative, which seeks to train scientists, growers, marketers and farmers for the emerging opportunities associated with the plant. (Photo by Russell Bailey). Read the full article here. 
 Meet Our Team of Agricultural Cannabis Experts: 
Agro business
Education and certificates
Cultivation
Genetics and plant biology
 NEW!!! Canna Dawgs Newsletter Coming Soon! Read our first articles below.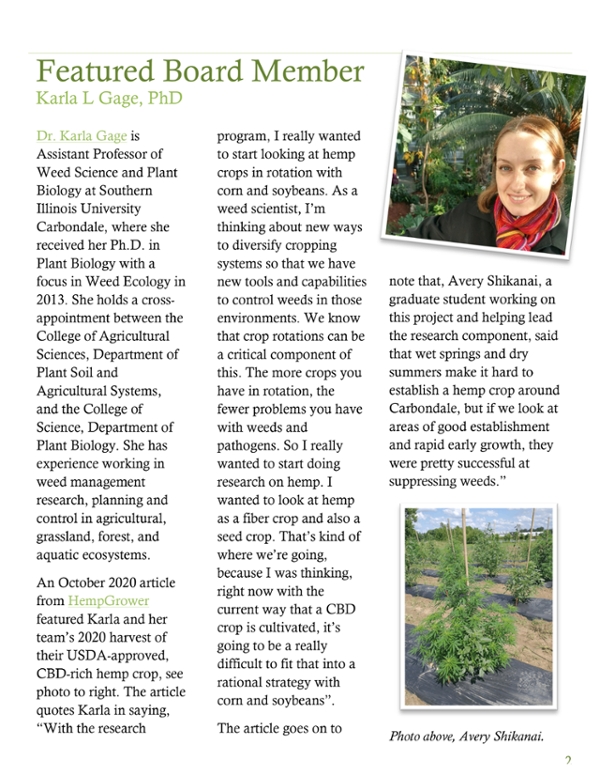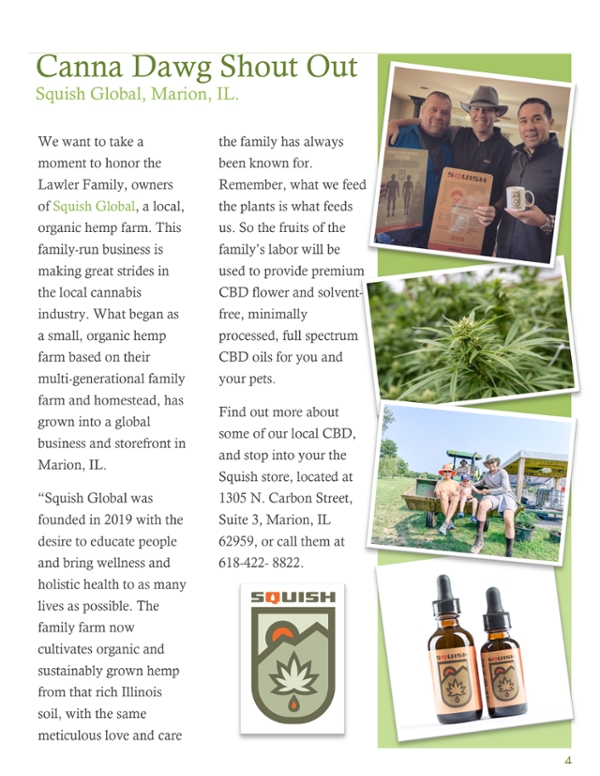 Welcome Jose Franco Da Chunha Leme Filho, PhD!
School of Agricultural Sciences / School of Biological Sciences 
View images of the hemp fields that Dr. Leme and his students harvested in October 2021, below.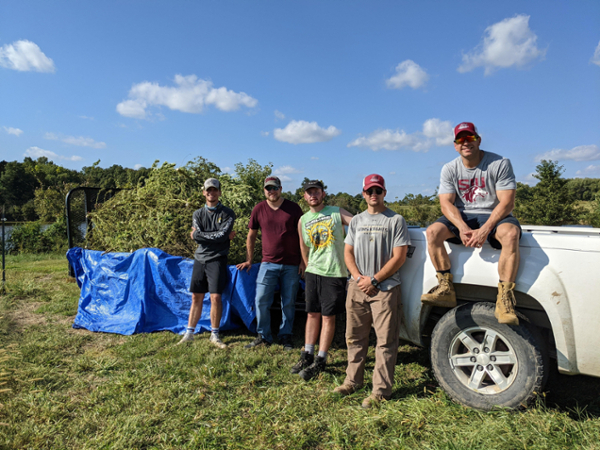 "My research expertise encompasses cannabis biology and cropping systems. The field of research on cannabis is very broad and multifaceted, therefore I am in an intensive collaboration with other faculty members and students to ensure that my program is tracking the most updated scientific discoveries. I am working to strengthen research and teaching collaborations with the School of Medicine and the Cannabis Science Center by evaluating the use of cannabinoids, terpenes, and other secondary metabolites. Since cannabis is technically new as a commercialized crop, there is an open field to be explored by both schools I am appointed in (Agricultural Sciences and Biological Sciences). Knowledge regarding cannabis water use, fertilization, disease/pest control, controlled environment cultivation and cannabinoids extraction are outdated due to the legal status. The trends in agriculture such as precision ag and plant biostimulants are very applicable to cannabis as well. Cannabis relevance will only continue to increase given the substantial interest of the general public. I firmly believe there are numerous benefits that we will discover as more research is conducted on cannabis". 
Website: https://www.drleme.com 
Facebook Page: https://www.facebook.com/Dr-Leme-Cannabis-Biology-and-Cropping-Systems-100649872368295 
YouTube Channel: https://www.youtube.com/channel/UCAJmuYmUzuGhMh-J-KR5tjg 
LinkedIn: https://www.linkedin.com/in/jose-franco-da-cunha-leme-filho-ph-d-b94809138/ 
Twitter: https://twitter.com/Jfrancoleme 
Instagram: @doc.leme - https://www.instagram.com/doc.leme/