Events/News
Main Content
Upcoming Events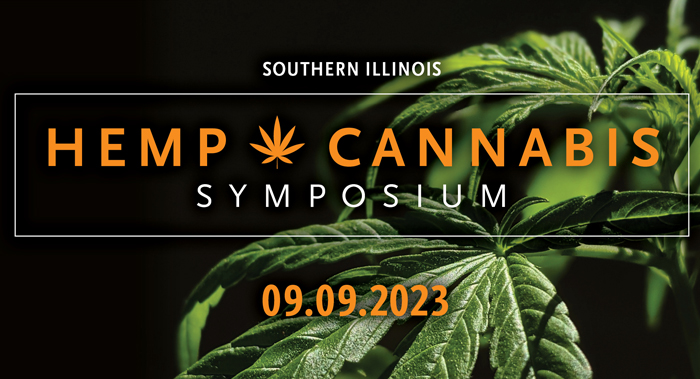 Hemp Cannabis Symposium
Date: Sept 9th, 2023 - 8:00a.m.
Location: SIU Student Center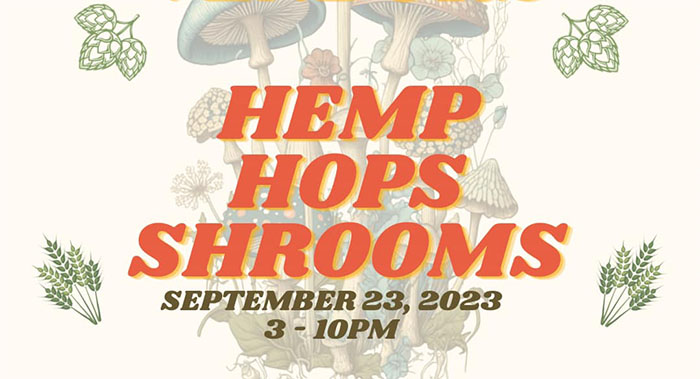 Hemp Hops and Shrooms
Date: Sept 23rd, 2023, starting at 3 PM
Location: Washington Street venue, Carbondale, IL
If you are interested in becoming a presenter or vendor for upcoming cannabis events, please contact us at cannabis-center@siu.edu. 
---
RECENT EVENTS:
EVENT: 3rd Hemp-Cannabis Symposium at SIUC (Saturday, September 17, 2022 )
Our 3rd symposium will be held in person at the SIU Carbondale, Student Center. Attendees will learn more about the possibilities of growing and marketing hemp/Cannabis products. Speakers will focus on statewide efforts in Illinois, as well as broad efforts across the Midwest, touching on Farm Bill issues and Federal regulations. Hemp breeders will discuss the development of new cultivars, optimized for Illinois or for use in unique row crop production systems where fiber, seed, and cannabinoids can be harvested from the same crop. The development of a business model for taking fiber hemp from the farm to the processing facility will be discussed by a leading innovator. Participants will also hear about new developments in the use of hemp materials in building and construction. Exhibitors and vendors will display modern production technologies in cannabis, in addition to consumer products.
Conference site, registration and T-shirt oders:
https://conferenceservices.siu.edu/conferences/southern-illinois-hemp-symposium.php
Special thanks to Illinois News Joint for sharing our event on their website here.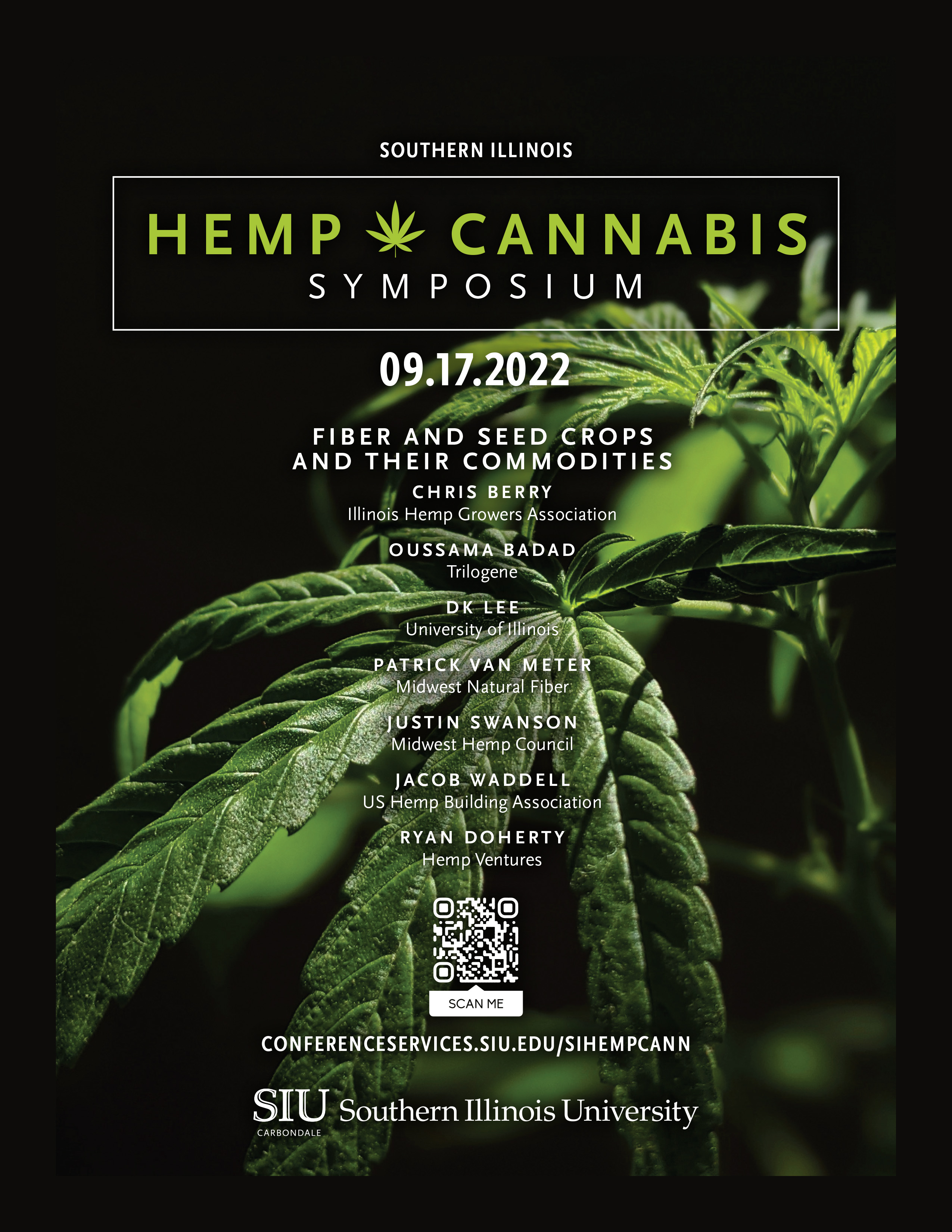 ---
EVENT: Hemp-Hops-Shrooms (Saturday, September 24, 2022 )
FREE OUTDOOR EVENT IN DOWNTOWN CARBONDALE, IL.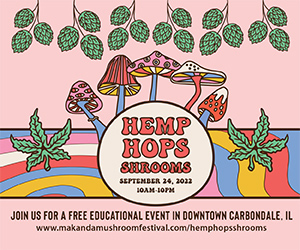 Southern Illinois University's Cannabis Science Center joins forces with SIU Fermentation Science Institute, The City of Carbondale, Off The Rails Concert Series, Carbondale Mainstreet, and Southern Illinois Mushroom Festival, to bring a new event to Downtown Carbondale, IL during Family Welcome Weekend.
As outdoor festivals begin to take place here in southern Illinois, we have been working hard to coordinate a new event, unlike any our city has ever seen before. Attendees of all ages will enjoy educational presentations from SIU Faculty on cannabis, fermentation, and culinary mushrooms. See local artists, vendors from 10am-3pm during our Local Market, enjoy live music from 11am-10pm, and other fun activities like a kids' bounce house, giant interactive games, and a cooking with culinary cannabis and mushrooms demonstration. Additionally, you can BYOB your food and drinks from 10am-10pm, or support local nearby businesses, thanks to the City's new ordinance which allows for open containers within the designated areas of Downtown Carbondale.
Past Events

Southern Illinois Hemp Cannabis Symposium
March 26, 2022
Our 2nd annual symposium was held in-person at SIU Carbondale, with a virtual option for the
convenience of non-local attendees. Our second-ever symposium was geared towards those in the
Cannabis industry with medical and recreational hemp/Cannabis interests. This event offered
information on laws, regulations, and the establishments of standards in the Cannabis industry.
Experts will discuss the status ofdelta-8 THC and research on the use ofcannabinoids in
treatment of COVID-19 and cancer. Visit our Facebook page here, to see photos of the event, and view the Symposium Agenda here.  
Speakers Included:
MARK PEYSAKHOVICH - REGULATORY AND LEGISLATIVE LANDSCAPE
LEZLI ENGELKING - CANNABIS STANDARDS AND BEYOND
JOHN MURRAY - DELTA-8 AND BEYOND
MARSHA ROSNER - CBD AND COVID-19
MARY KINSEL - TRUTH IN LABELING OF CBD PRODUCTS
BUCK HALES - RESEARCH UPDATE / OVERVIEW OF CANNABIS MEDICINE

Onsite vendors demonstrated advances in production technologies, as well as end products for the consumer.
Vendors included:
AES Solar, AerosourceH (for their Aeroponic Grow Chambers click here and for their CBD products click here), Consume Cannabis Co., Jain Irrigation, Mrs. Buckbee's Wake & Bakery, Performance Grow, Sustainable Innovations Inc., Squish/Lawler and Lawler, Valoya Inc., and Versaponic.
If you are interested in becoming a presenter or vendor for upcoming cannabis events, please contact us at cannabis-center@siu.edu.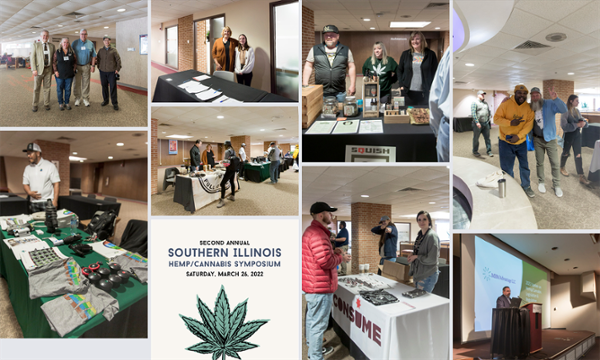 SIUC's Conference Services staff were excpetionally helpful in coordinating and organizing this Symposium and we are eager to work with them on future events. Thanks to everyone who made this event a success! 
Additionally, we appreciate Southern Illinois University Carbondale's Fermentation Science Institute for hosting us on Friday, May 25 for a tour of their facility and a happy hour to welcome guests and thank those involved. 
Shout out to Buckwater Brew Works for hosting us Saturday after the Symposium!! We all had a wonderful time. 
---
AerosourceH Facility Tour Recap:
A special thanks to AerosourceH for the outstanding tour! SIU Students and Faculty Members learned so much. See all the photos on our Facebook page here!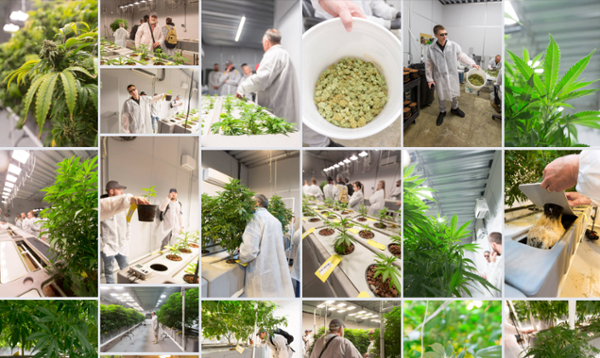 ---
PBS: The Cannabis Question Recap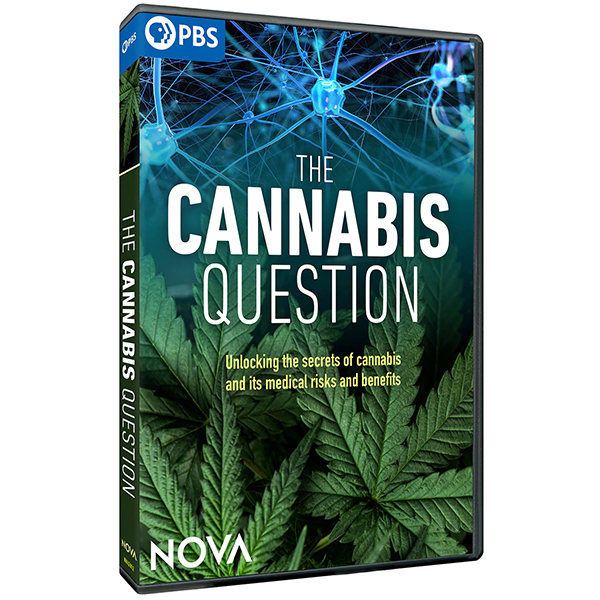 Watch PBS NOVA's Video, "The Cannabis Question" here. "As state-legalized cannabis spreads, NOVA explores its little-known risks and benefits. NOVA investigates the story of cannabis from the criminalization that has disproportionately harmed communities of color to the latest medical understanding of the plant. What risks does cannabis pose to the developing brain? How much do we know about its potential medical benefits? As cannabis becomes socially accepted, scientists are exploring its long-term health consequences. (Premiered September 29, 2021)
---
2021 Southern Illinois Hemp Cannabis Symposium-- March 18, 2021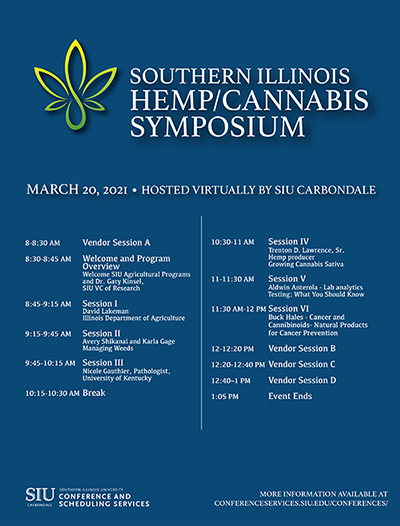 ---
2021 IL Virtual Hemp Summit - February 22-23, 2021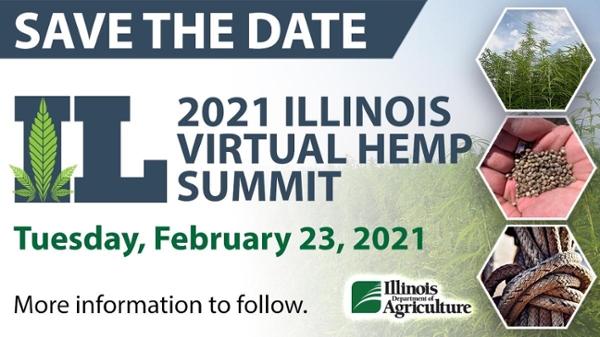 In the News
Southern Illinois Cannabis Science Center now officially certified by the Illinois Board of Higher Education (IBHE)